Contactless Exit Buttons
---
As well as our COVID-compliant software features, we also have developed new hardware lines to make it easier and safer for your employees to return to the workplace.
Recently we spoke about our facial recognition and temperature measurement products. Today, we will talk about our contactless access control door entry and exit buttons.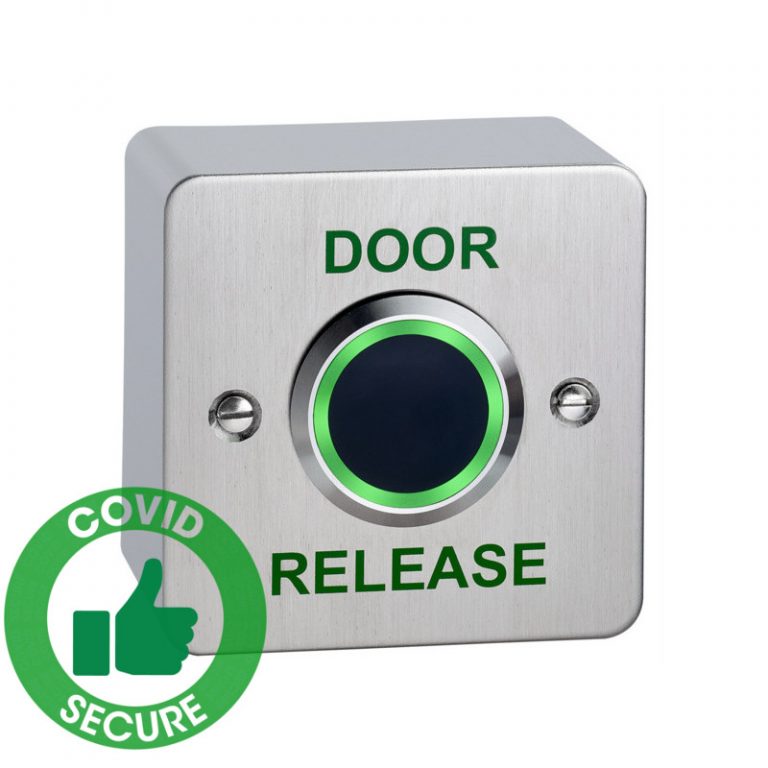 The Tensor S-1-EXITIR Contactless Exit Buttons are the perfect access control exit solution to fulfil hygiene and contactless requirements.
The infrared detection system within the S-1-EXITIR contactless exit button allows users to activate the switch through close proximity, rather than any physical contact.
. This is ideal for sterile environments, but also for general high traffic areas such as hospitals, public buildings and schools/colleges that pose an increased level of germ infection risk.
The surface-mounted S-1-EXITIR features an easy-to-clean, single gang stainless steel back-plate and an illuminated red and green changing LED. and allows users to modify the door open period, as well as the proximity range to their specific workplace requirements.
COMPLETE CONTACTLESS DOOR ACCESS CONTROL SOLUTION
This product integrates seamlessly with the rest of our powerful, multi-featured systems.
These include: 
Tensor Proximity Card Readers: Slim, sleek and attractive, proximity smart card readers deliver multi-card format compatibility with extensive functionality.
Facial Recognition Terminals with Temperature Detection: The Facial Recognition Terminals are among the world's most compact face recognition stations, offering very high matching speeds, accuracy, and level of security. The additional Temperature Detection camera adds and extra layer of safety.
Latest versions of the Tensor Mobile Self-Service Module (SSM) iOS/Android app: The "Door Status" feature implemented in the Mobile SSM App Version 3.803.26 and available when used in conjuction with the 4.2.0.x Series of Tensor.NET software provides users with an overview of the current status of the access doors controlled by Tensor access controllers and also enables the automatic door locking or unlocking directly from the app.
We will be happy to discuss any queries you may have and to arrange bespoke quotations fitted to your individual workplace requirements. Please get in touch for more information!